Great Ocean Road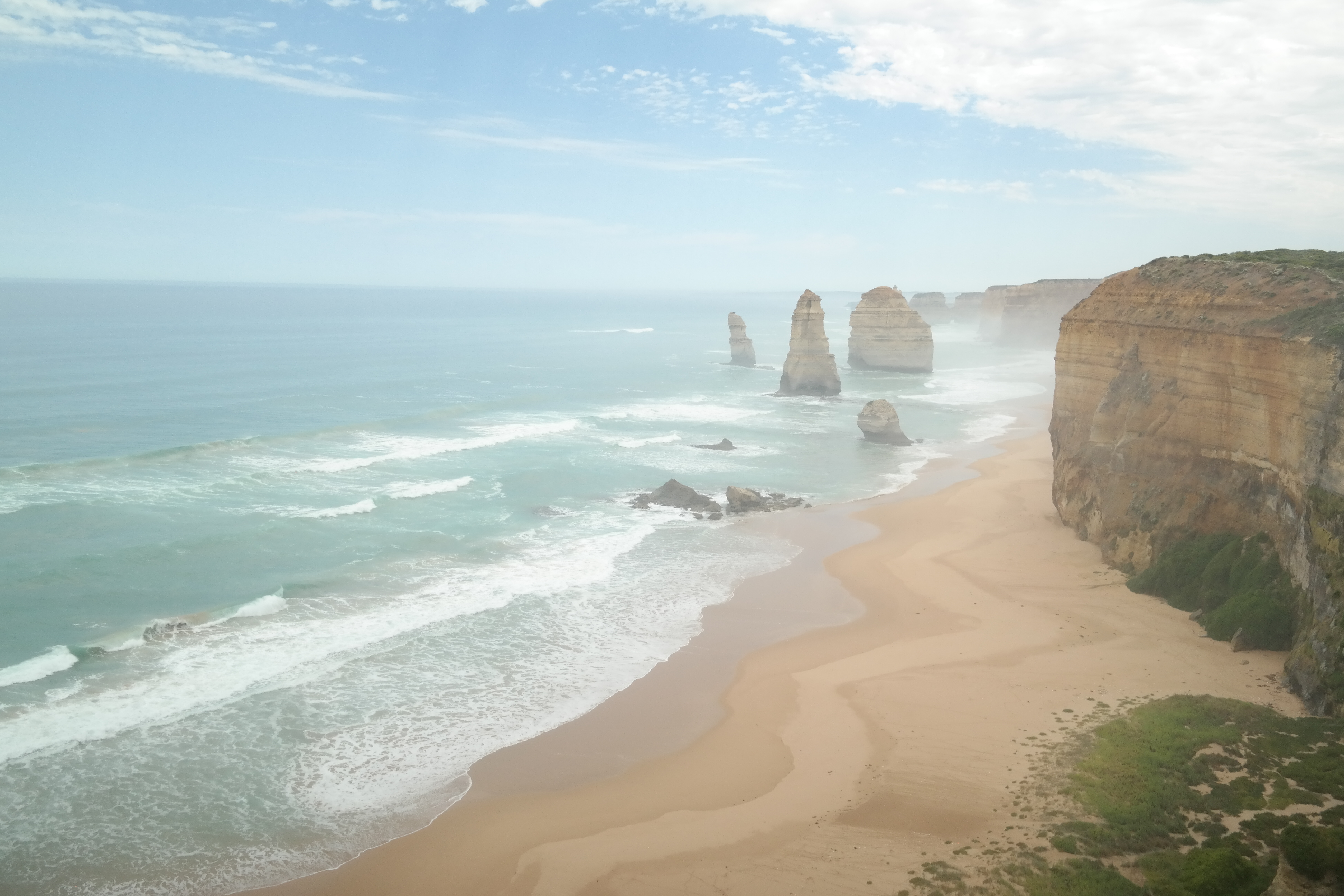 Great Ocean Road: My don't miss list
One of Australia's most known road-touring routes is the one crossing the Souther Ocean- actually begins in Australia's surf capital Torquay and passes by Bells beach then Cape Otway and ends at Port Fairy. From world class surfing spots to rainforests inhabited by thousands of koalas and from calm relaxing port towns to dramatic limestone cliffs, Great Ocean road is the best place for having the perfect summer just in the middle of winter….
Why to visit Great Ocean Road?
The main reason I decided to spend 3 days on a road trip exploring this Southern Ocean's coastline was because of a few great pictures I saw online. In reality, it took me only a few hours of driving on Great Ocean route to finally realise that this road trip will be way more extraordinary than it looks virtually. I was thrilled by the long hiking routes throughout tropical rainforests, the dramatic cliff landscapes and the endless sandy beaches.. Great Ocean Road is the perfect combination of remote and immediate! It is about the perfect drive among tiny coallas spending a lazy afternoon on long eucalyptus trees. It is about the ideal sensation of tasting fresh sea food at every single stop along your way. This is not just another surfing place but the absolute destination with the most famous surfing beaches and the best surfers in the world.  I was so excited to be there that if there was a single thing I'd do differently next time that would be to spend definitely more than just 3 days exploring and enjoying. If you want to make the most of your Great Ocean Road experience I suggest you to hire a car and escape Melbourne for at least 7 days!
Torquay – Bells Beach
Great Ocean Road officially begins in between of Torquay and Anglesea and this is exactly where our journey begun. This is a city that is serious about for surfing and its is known to be the home of two iconic surf brands – Rip Curl and Quicksilver. The drive from Torquay is gorgeous – in fact Torquay  is the perfect departure point for your road trip thanks to its close proximity to the world-famous Bells Beach – which is part of international surfing folklore- makes it. We made a few nice stops along our way, including Torquay's view points and the spectacular Point Addis where we did surfing along with some professional surfers, swimmers, nuddists, and bohemian hand-glitters! Initially we booked a 2 hours class with a fantastic surfing school called Go Ride a Wave (2hrs lesson from $69/59) and this bit was my favourite. Try to book in advance and you'll get cheaper prices. After 3 hours of surfing we managed to miss the famous Koorie Cultural Walk. If you have enough time this is a walk highly recommended by locals.
Lorne beach
Next stop was at Lorne, one of the Great Ocean Road's original resort towns. Along with Port Campbell and Port Fairy Lorne this is one of the most charming towns we saw . I loved its hilly streets, the Loutit Bay and the tall old gum gleams. Even thought we decided to make a short stop there for having some lunch we were amazed by its incredible natural beauty. I personally recommend to get your lunch at Lorne Beach Pavilion. This place is famous for its fresh oysters and the spectacular view on the foreshore. Swing by at sunset for a bottle of prosecco or come at happy hour for $7 pints – enjoy!
Apollo Bay
This is one of the larger cities along the Great Ocean Road and this is why I was desperate to try their local markets and walk around the city centre. When I finally arrived I was surprised to find out that restaurants, pubs and even the luna park are closing no later than 9.30pm. Apollo Bay seems to be Melbourne's relaxed alternative and is home to some decent surfing. Its wide sandy beaches will make you feel that summer in Australia's sea towns is unbeatable. The very next morning I had a nice walk across the foreshore and I discovered a small but quite picturesque port.
I got to spend only one night at Apollo Bay but the place I booked to spend the night ended up being my most favourite. YHA Eco Beach is an amazing eco-friendly hostel with modern designed lounge areas and a wide rooftop terrace with a gorgeous view towards the ocean. The sharing areas of living room and kitchen make this place the perfect point to make some new friends! If I had to spend some time again at Apollo Bay I'd chose the same place without second thought!
Cape Otway National Park
While I was trying to find out which places are worth a visit around Apollo Bay I discovered the National Park of Cape Otway and Otway. The natural beauty of this National Park is incredible! It is only a 21km drive to Cape Otway's light station and on your way you'll be passing the national park of Cape Otway. Within only few hours we passed by stunning ancient rainforests, pristine beaches, dramatic coastlines, and amazing waterfalls! From walking trails to hidden forest retreats, the Otway is a place for adventure, romance and discovery. What I loved most along the way was the cute koalas hiding among the towering tress.
On our way to Lighthouse we passed by the Bimbi Park that peculiarly enough is recommended by many touristic providers. My personal experience was quite different though. There was nothing impressive to see there, the camping place under the forest was nothing special to see and the customer service was really poor. I personally wouldn't consider staying there and wouldn't recommend to anyone spending a night at this place.
Once I arrived at the Lighthouse I was surprised by how well maintained it has been kept – especially considering that was built in 1848 and is one of Australia's oldest surviving lighthouse. There is also a lovely museum there devoted to lighthouse's different historic eras. I was excited walking around the whole surrounding area that is a sprawling complex with a few breathtaking views towards the ocean. I absolutely fell in love with this place! In case you are planning to visit you might better consider renting! Actually you can stay at Head Lightkeeper's House or the smaller Manager's House for about £200! Both options provide full contained accommodation and can be great getaways for couples, families or groups of friends. I visited both and the truth is that they are fantastic places to stay. During the whale season you'll be able even to watch whales to play off the lighthouse.
Port Campbell
Along our way to Port Campbell we made a quick stop at Cape Otway's National Park a place filled with natural beauty which give an excellence chance of Koalas sightings. We also made a stop at Princetown which strangely enough was one of the beaches that were not recommended by any tourist guide I red. Luckily enough that was the most surprisingly beautiful beach of all our trip. Seeing the beach appearing throughout the natural landscape only few metres walk of the massive Princetown lake is a really unforgettable moment. Port Campbell which was our next stop is known to be the home to a complex of magnificent rock stacks that rise up majestically from the Southern Ocean on Victoria's dramatic coastline. Since the time you'll be arriving in Australia these limestone wanders including Loch Ard Gorge, The Grotto, London Arch (formerly London Bridge) and The Twelve Apostles should be on the top of your bucket list.
The Tower Hill Reserve is a free to the public reserve where you can find echidnas, koalas, kangaroos and unique species of gorgeous birds. Given its on your way to Port Fairy would be almost a crime to miss it!
Port Fairy
Except being the last city along the Great Ocean's Route, Port Fairy is also one of the best surfing hometowns. In fact, there is also a surfing school located on the beach but we found out that we should have rented our boards and swimsuits from the city centre first and it was already super late to go back. At that point it happened to meet a fantastic surfing teacher who was happy to borrow us his surfing board. And yes, you guessed right! That was the only day we jumped into the super cold sea without wearing any proper surfing swimsuit. Later on, we went to get some fresh fish and oysters at 'All Fresh', and we grilled them at Port Fairy's lovely park. I was surprised to see how easy is to get everything grilled and how perfectly everything works. In case you'll go for this option, don't forget to get some olive oil, plastic plates and cutleries with you. We didn't take any of these but thanks to our good Australian neighbors we were fine at the end. Once we had our delicious late picnic lunch we found a small but colourful lunapark very close to the beach where we went for a crazy ride with the cart cars! We had so much fun there!
---
---